About Us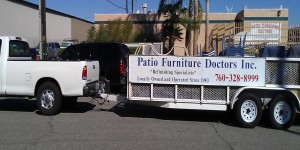 Since 1983, Patio Furniture Doctors serves the Palm Springs Area by providing patio furniture repair and refinishing services. We pride ourselves on adding beauty to your furniture for less then the price of buying new.
Whether it's completely refinishing or just re-strapping, new slings, custom cushions, umbrellas, or tabletops, we can help! One call to the Patio Furniture Doctors, does it all, as we repair pieces for homes, community associations, hotels, and country clubs at competitive prices while guaranteeing the best service.
Whether you're a homeowner or property manager, you can expect to be treated with integrity and honesty. Patio Furniture Doctors is dependable and reliable, as we believe in offering the top quality for the completed job!
We are founded in Palm Springs and now work with our sister company, Patio Guys, to provide service to all of Southern California including the desert area. We are loyal to our roots and continue to provide quality service to the Coachella Valley throughout our expansion. We have pick up and delivery throughout The Palm Springs Area; Rancho Mirage, Palm Desert, Bermuda Dunes, Indian Wells, La Quinta and Indio.
Give us a call for your FREE estimate today!