Re-Strapping Patio Furniture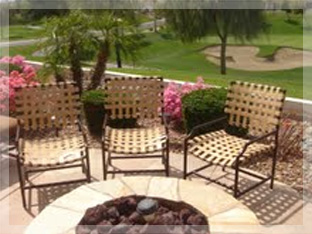 Being familiar with the desert, we've learned the sun can take a toll on your patio furniture. Being a tourist community we have many hotels, restaurants, country clubs with strap patio furniture. Each season the sun starts fading and cracking the straps of your chairs. Even if they are broken…… We are your solution!
Having been founded in Palm Springs, we will schedule you a free estimate, offer pickup and delivery and show you examples of our work. Most likely you have sat on one of our re-strapped patio chairs; if visiting a country club, eating at a restaurant or sitting poolside here in Coachella Valley.
Our re-strapping is with 100% virgin vinyl, available in many different styles and colors.
No matter if you are a homeowner with a few chairs or a hotel manager with a few hundred chairs, we can handle all your re-strapping needs.
Call us for a Free Estimate at (760) 328 8999