Re-Strapping Patio Furniture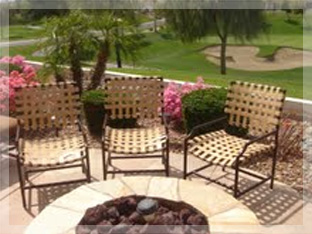 Living here in the Desert for 30 years, we've learned the sun can take a toll on your patio furniture. Being a tourist community we have many hotels, restaurants, country clubs with strap patio furniture. Each season the sun starts fading and cracking the straps of your chairs. Even if they are broken…… We are your solution!
Being locally owned and operated, we will schedule you immediately and come give you a FREE in home, office estimate, along with showing you our beautiful work throughout the Desert. Most likely you have sat on one of our re-strapped patio chairs; if visiting a country club, eating at a restaurant or sitting poolside here in Coachella Valley.
Our re-strapping is with 100% virgin vinyl, available in many different styles and colors.
If you have a few chairs or a thousand, we will can handle all your re-strapping needs and have your chairs back to you in no time!